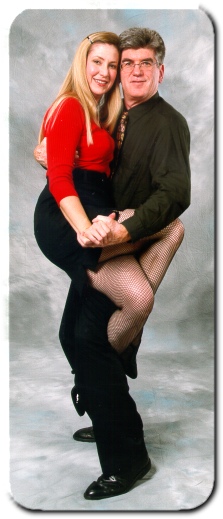 Stephen and Susan Brown were first attracted to the magic of Argentine tango by an article in the November 1993 issue of Smithsonian magazine. The picture of Hector Mayoral and Elsa Marie in a tango pose on the street in front of an electric yellow building with a bright blue door in Buenos Aires caught their eyes. The article that accompanied the photo told about the resurgence of tango in Buenos Aires and its transplantation to the San Francisco Bay Area.
Through the article, Steve and Susan learned about Nora Dinzelbacher, an Argentine residing in the Bay Area and one of the leading tango teachers in the United States. Soon they were on their way from Dallas to San Francisco to learn tango. In addition to Nora, Steve and Susan have studied Argentine tango extensively with Nito and Elba Garcia, Michael Walker and Luren Bellucci, Daniel Trenner, Florencia Taccetti and Mariela Franganillo. They have also taken classes from Osvaldo Zotto and Lorena Ermocida, Leandro Palou and Andrea Missé, André Samson, Fabian Salas, Graciela Gonzalez, Milena Plebs, Lampazo, Juan Carlos Copes, Susana Miller, Gabriel Missé, Carlos Gavito and Marcela Duran, Francisco Forquera and Natalia Hills, Danel and Maria, Rebecca Shulman, Alex Krebs, Luciana Valle, and Pablo Pugliese.
Steve and Susan have found a special joy in combining travel with their dancing, and they have danced and taught Argentine tango in numerous cities in the United States and throughout the world. They also helped to start and build the Dallas tango community. They were among the first couples to offer regular instruction of authentic Argentine tango in Dallas. Having moved in 2010, they now live in Las Vegas, Nevada.
Steve and Susan are no longer teaching on a regular basis. After more than ten rewarding years of teaching Argentine tango, Steve and Susan decided to concentrate on their own dancing and other activities. When they do teach, Steve and Susan emphasize the social styles of tango, as danced in Buenos Aires. To convey the sensual, romantic, improvisational and magically transcendent nature of Argentine tango as it is danced socially, they teach more than memorized figures. Their approach is from the inside out, emphasizing fundamentals, connection, lead/follow and quality of movement. They integrate the important elements necessary for authenticity and skill on a social dance floor—musicality, walking, intuition, connectedness, steps, structural concepts and technique—to promote the development of an inner knowledge of the dance that allows their students to assemble pieces of the dance intuitively as they move along the floor rather than to rely upon numerous memorized figures. They use authentic Argentine tango music for teaching including Caló, Canaro, Color Tango, D'Agostino, D'Arienzo, DeAngelis, Di Sarli, Fresedo, Laurenz, Pugliese, Tanturi, and Troilo.
Steve is widely recognized for his skills as a deejay for milongas, and he has played recorded music for such big events such as the Denver Milonguero Tango Weekend, Fandango de Tango, Milonga Under the Stars, Tango by the Sea, the USTC Tango Fantasy Festival and the Valentine Tango Weekend, as well as numerous local milongas in Dallas and other cities.
To contact Stephen and Susan Brown, please email t e j a s t a n g o a t y a h o o d o t c o m