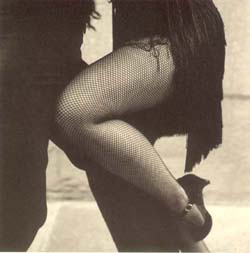 Commentaries on Argentine Tango and Life
by Stephen and Susan Brown
Dancing to the Music (3)
30 December 2004 — Stephen Brown
On Tango-L, Tom Stermitz writes:
Tango music has a characteristic suspension and surge, often expressed in the music as a rising crescendo prior to the strong beat at the start of a phrase or even leading to individual beats. The bandoneon (resting on the player's knee) often starts to express a note BEFORE the beat; then the player slaps his foot to the ground causing a hrr-UMPPF sort of sound. There are many other musical and rhythmic elements, but the above is most distinctive to tango, and not present with such dramatic intensity in other kinds of music, e.g. foxtrot, habanero, jazz or world music. A tango dancer often expresses this hrr-UMPPF by surging slightly before the beat, feeling the partner engage, then arriving to a footstep ON the beat.
This is the same sound and movement that I previously described as Rhuummmp in Rhuummmp and Ric Tic.

---
Dancing to the Music (2)
20 December 2004 — Stephen Brown
In the past month, I have danced tango and watched tango dancers in four cities around the United States, including attending a big tango event. One thing that I have seen in every city (including the big tango event) was more than a few leaders who otherwise seem to have reasonably good skills and a decent sense of rhythm but seem to dance exactly the same way to every piece of music and with every partner. I am not referring to styles—milonguero vs. salon vs. nuevo—as I wouldn't necessarily expect a person to change their basic style of dancing for different pieces of music. I mean leaders who ignored how the rhythmic signatures of their movement related to the music and forced the same step patterns onto whatever music was playing, whether it be Donato's A Media Luz, D'Arienzo's El Flete, Tanturi's Cuatro Compases, Di Sarli's Bahia Blanca, Calo's Tristezas de le Calle Corrientes, Pugliese's La Bordona or Color Tango's Zum.
Obviously, the rhythmic signatures of many tango steps are sufficiently elastic that their amplitude and frequency can be adjusted to reflect the music. What I saw was a number of leaders who had the command of advanced steps but were not making such adjustments. For example, I saw one leader use the same volcada with every partner to every orchestra. The way he executed the volcada fit well with slow, dramatic music, but it didn't reflect the staccato rhythms of D'Arienzo. I wouldn't say that he was off the rhythm, but that the movements did not well express the rhythmic elements of the music. I saw another leader use the same staccato turn with an ocho cortado that he used with all music, even as the orchestra was taking a dramatic pause. Again, he wasn't off the rhythm, but it was like watching a rapid-fire snare drum solo in what would have otherwise been a delicious pause. In another case, I saw a regional teacher continually using the same change of direction turn without any adjustment to fit the cadences of the music.
Of course, dancing tango as step patterns contributes to the problem, but I am not referring to beginners or even intermediate dancers. I think too many leaders are failing to develop their feeling for tango music. In August, I listed Some CDs for Learning About Tango Music. Rather than just sitting down and listening to the music, working with movement to simple Rhuummmp and Ric Tic rhythms can be a good way to get started.

---
Dancing to the Music
17 November 2004 — Stephen Brown
Let's consider two different tandas of vals music. Tanda One (all played by Rodolfo Biagi): Amor y Vals, Paloma, Por Un Beso de Amor, Lagrimas y Sonrisas. Tanda Two: Ilusion de Mi Vida by Orquesta Color Tango, Palomita Blanca by Hector Varela, Corazon de Oro by Lalo Schifrin Orquesta, Desde el Alma by Osvaldo Pugliese
Both tandas contain devastatingly wonderful vals music. All pieces of the music are eminently suitable for dancing, but the moods of the two tandas music are considerably different. The valses played by Biagi have a denser orchestration and more direct rhythm and romantic quality. The valses in the second tanda have a more contemporary and spacious quality and a lighter sense of romanticism.
The embrace used to dance to these different tandas need not be different, nor am I likely to decide to dance one style of vals to Biagi and another to the more contemporary recordings in the second tanda. We are bound to dance a little differently to these two tandas if our interpretation comes from the heart and our connections with our partner, the music and the other dancers around us. Nonetheless, our interpretations of the music will depend to some extent on the style of dancing we gravitate toward.
Dancers who are caught up in executing complex memorized figures are unlikely to offer anything that resembles a relationship to the music. The execution of these complex figures can severely interfere with the ability to focus on anything else. Beginners who are dancing relatively simple elements are much more likely to connect to the differences in the music. Those who approach tango as memorized figures are likely to leave their first tango lesson and their next 20 less able to connect and move to the music than they did when they first walked in the door. That's not dancing.

---
El Arranque on Tango Fusion and Other Approaches
10 November 2004 — Stephen Brown
On Tango-L, Alberto Gesualdi of Buenos Aires writes: "Last night a bunch of us were joined at dinner by Ignacio from El Arranque. He mentioned that numerous groups are trying the tango/electronic fusion, but to his mind none of them have succeeded yet—not that it's not a worthwhile goal. Unlike lots of tangueros here, he and El Arranque are open to collaboration and new approaches, from the past and the future."
Alberto reports that El Arranque has unearthed old handwritten old arrangements from the 1940s which they are using—some of them fairly radical, according to Iganacio. These arrangements were buried in peoples closets, etc. El Arranque is near completing a CD on which they play with the older masters who composed the music, which Igancio says is unusual because tango recording is not a very collaborative or open scene. The new El Arranque CD, Maestros, is listed in the Epsa Music catalog as #607000549 for release in 2004.

---
A Tango Festival during Thanksgiving in Austin, TX
27 October 2004 — Stephen Brown
Fandango de Tango is an annual tango festival held during Thanksgiving weekend in Austin, Texas. Ricardo Moncada, the festival's organizer, started Fandango de Tango more than 5 years ago with two couples teaching and about 80 people attended. Always using top notch teachers, Ricardo gradually built Fandango de Tango into one of the best regional tango festivals in the country. Now Fandango de Tango is getting widespread attention, and dancers from all over North America are planning to pour into Austin for five days of tango fun with six milongas, five teaching couples and a Thanksgiving dinner. Among the scheduled teachers are: Fabian Salas & Carolina del Rivero, Julio Balmaceda & Corina de la Rosa, Carolina Zokalski & Diego Di Falco, Luciana Valle & Alex Krebs and Pablo Pugliese. The DJs for the milongas include Stephen Brown (Dallas), Victor Crichton (Tampa), Alex Krebs (Portland), Jason Laughlin (North Carolina), and Robin Thomas (New York City).
Asked what Fandango meant at last year's festival, Ricardo said that in his culture it meant a big party. Fandango de Tango is a big tango party.

---
Robert Duvall in Dallas
27 October 2004 — Stephen Brown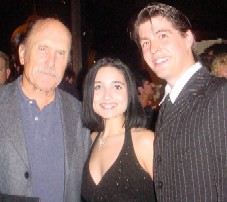 Pictured here with dancers Jairelbhi and George Furlong, Robert Duvall visited Dallas in mid-October to attend the Deep Ellum Film Festival. Taking time from his busy schedule at the festival, Duvall attended an exhibition of Candice White's tango photographs, and watched Jairelbhi and George perform Argentine tango to the live music of the Dallas Tango Trio. Although Duvall is a tango dancer, he was content to watch the exhibition.
---
How Am I Not Myself?
26 October 2004 — Stephen Brown
Having recently seen the movie I Heart Huckabees, I am wondering what part of the movie best represents tango to me. I think it might be the part where two of the characters are hitting each other in the face with a large inflatable ball. I wonder what that says about my perception of tango.
---
Some Tango-Fusion Music to Consider
12 October 2004 — Stephen Brown
In the 21st century, we have different social venues, new technologies, new musical instruments, and continuing musical evolution. All of these developments have inspired some of today's tango musicians to develop new approaches to tango dance music. At the same time, tango dancers are exploring new music for dancing. At an increasing number of milongas in Buenos Aires, Europe and North America, the DJs have expanded their playlists to include neo-tango music. Neo-tango consists of two genres of music: tango-fusion and "alternative" tango music. Tango fusion integerates traditional tango rhythms and instrumentation with other musical traditions, contemporary instruments and often electronica to create a modern and culturally relevant world tango music with a dance-club sound. Alternative tango music is tango music from other traditions or non-tango music that some dancers find interesting for dancing Argentine tango steps.
I remain a skeptical about the use of non-tango music for dancing Argentine tango, but an increasing number of tango-fusion recordings have found their way onto my playlist. I find it best to use such recordings late at night and sparingly. Some of the tracks to consider playing at milongas are:
Carlos Libedinsky — Narcotango
Vi Luz y Subi
Plano Sequencia
Otra Luna
La Chicana — Tango Agazapado
Una Iguana y Tres Monedas
Sopapa (milonga)
Milonga de los Perros (milonga)
Mizrahi-Longhi — Carne Argenta
Praga
Youkali
Bajofondo TangoClub — Bajofondo TangoClub
En Mi/Soledad
Bajofondo TangoClub — Supervielle
Perfume
Pulso
Air Concret
Centroja
Gotan Project — La Revancha del Tango
Queremos Paz
Una Musica Brutal
Epoca
Santa Maria
Ultratango — Astornauta
CiteTango
Santa Maria del Buen Ayre
Tanghetto — Emigrante
Inmigrante
Una Llamada
Aubade Leçons de Tango (compilation)
El Tango (Hi Perspective)
Naranjo en Flor (Campo)
Moulin Rouge (movie soundtrack)
El Tango de Roxanne
Buenos Aires Ensemble — Tango Chill Out
La Cumparsita
Chill en Buenos Aires
Tango Project II — New Tango
Sentimientos
Buddy
Some of the tandas that I have put together from these recordings can be found in the neo-tango music section of my Annotated List of Tandas.

---
Bravery
17 September 2004 — Susan Brown
"There is a popular notion that great actors have to be brave and willing to suffer. And while that's true, strangely I find the harder thing is to be brave enough to be simple, to stop when you've done it. That is more frightening than anything. The scenes where it's required that you turn your guts inside out and just bleed publicly are not anywhere as difficult as the simple moments. Those take more bravery, I think, than the gut-wrenching screams or the crying."
William H. Macy, actor
from neverfollow.com (requires flash)

---
Becoming a Good Tango Dancer (4)
9 September 2004 — Stephen Brown
Pablo from Australia writes that Rose's comments though insightful do not answer the question about how long it takes to become a good tango dancer. Of course, Pablo is right. In an earlier contribution to Tango-L, Brian Dunn of Dance of the Heart in Boulder, Colorado offered some specific numbers which can be found here. In a subsequent post to Tango-L, Robert Hauk of Portland, Oregon shifted the discussion away from specific timing with comments that can be found here. Rose's comments are best understood as a continuing in the direction set by Robert. I was trying to indicate a connection to the two earlier posts, but I shouldn't have introduced Rose's comments with the question: "How long does it take to become a good tango dancer?"
Yet another perspective can be found on the blog My Life As a Tango Beginner.

---
Becoming a Good Tango Dancer (3)
8 September 2004 — Stephen Brown
How long does it take to become a good tango dancer? On Tango-L, Rose of Portland writes:
"For me, tango is a feeling. It's in the music, it's in the expression of the movement, it's in the embrace.
"To learn this takes time. I still have much learning to do. I do not understand many of the lyrics in the songs that I dance to. I think, how can I dance, how can I express this if I don't know what it is about. Certainly I can express myself, but the music is something I still to learn.
"But another thing is you might as well be asking how long it takes for someone to be a good lover, a good artist, a good musician, a good listener. These are all requirements of being a good tango dancer in my estimation. There are probably no answers to this question.
"I once asked Graciela Gonzalez about embelishments. She told me that they must come out of personal experiences. She was not talking about dance experience, she was talking about experience in love, in loss, in dissapointment. She said to me "you are young" but she said that it didn't matter that the dance changes with a person's experiences and that what I draw from now will be different in time, that I won't hear or think things in the same way as time passes.
I may be waxing philosophical now, but I think it best not to measure one's life by means of standards and proficiencies. The joy of doing something comes from the doing. Dancing is an art form in which nothing is created except for the experience. If your goal is to have a good experience then your outlook can change. You don't view people as good dancers or bad, but as potential persons with whom to connect, to share something with, to learn something about. I don't expect that every dance that I have will be a good dance, but I dance them with the intention of making that connection."
In an earlier contribution to Tango-L, Brian Dunn of Dance of the Heart in Boulder, Colorado offered some specific numbers which can be found here. In a subsequent post to Tango-L, Robert Hauk of Portland, Oregon shifted the discussion away from specific timing with comments that can be found here.

---
Beginners Taught by Masters
7 September 2004 — Stephen Brown
Argentine tango made a comeback from near oblivion in the 1980s, but it was really the 1990s and early 2000s when Argentine tango reached its current level of participation. With its relatively recent revival and niche market, Argentine tango has something that is relatively unique in the dance world—beginners taught by masters. Such interactions can be difficult and lead to strained expectations on both sides. From time to time, a relatively inexperienced dancer will offer negative comments on Tango-L or another forum about the trouble that they had while taking classes or lessons from a master whose teaching was beyond their ability to learn. And from time to time, highly skilled dancers who are teaching Argentine tango have difficulty understanding that many of their students are learning to dance Argentine tango as a diversion from their daily lives. Saludos to those generous teachers and apt pupils who have been able to bridge the gap.

---
Some CDs for Learning About Tango Music
23 August 2004 — Stephen Brown
The following 12 CDs provide a good introduction to the wide variety of tango music from the golden age that is played at milongas.
1. Juan D'Arienzo — Instrumental Vol. 1 (Solo Tango) - this CD has more of D'Arienzo's classic instrumentals than any other
2. Carlos Di Sarli — Instrumental Vol.1 (Solo Tango) - probably the best available CD of Di Sarli's instrumental tangos
3. Anibal Troilo — Instrumental (Tango Argentino BMG-RCA) - his early rhythmic instrumental classics
4. Troilo/Fiorentino (Solo Tango BMG-RCA) - Troilo with the great vocalist Francisco Fiorentino
5. Osvaldo Pugliese — Ausencia (EMI Odeon) - an outstanding collection with many of Pugliese's best recordings
6. Miguel Caló — Al Compás del Corazon (EMI Reliquias) - great valses, milongas and tangos with the great vocalist Raul Beron
7. Ricardo Tanturi/Alberto Castillo — El Tango es el Tango (Tango Argentino BMG-RCA) - the Tanturi/Castillo CD with the most classic tangos
8. Carlos Di Sarli — Porteño y Bailarin (Tango Argentino BMG-RCA) - with vocalist Jorge Duran
9. Angel D'Agostino y Angel Vargas — Tangos de Los Angeles vol. 2 (Tango Argentino BMG-RCA)
10. Rodolfo Biagi — Solos de la Orquesta (EMI Reliquias)
11. Alfredo DeAngelis — From Argentina to the World (EMI) - most of his instrumental classics
12. Ricardo Tanturi/Enrique Campos — Una Emoción (Tango Argentino BMG RCA)
With this 12 CD collection, you would have good coverage of all five styles of golden-age tango music played by the orchestras whose music is most frequently played at milongas including the hard rhyhmic tangos of Juan D'Arienzo and Rodolfo Biagi; the soft rhythmic tangos of Anibal Troilo, Anibal Troilo with Francisco Fiorentino, Ricardo Tanturi with Alberto Castillo and Angel D'Agostino with Angel Vargas; the smooth Carlos Di Sarli instrumentals, the lyrical tangos of Miguel Caló with Raul Beron, Carlos Di Sarli with Jorge Duran, Ricardo Tanturi with Enrique Campos and Anibal Troilo with Francisco Fiorentino; and the dramatic tangos of Alfredo DeAngelis and Osvaldo Pugliese.

---
La Yumba
20 August 2004 — Stephen Brown
La Yumba is one of the most famous tangos recorded by Osvaldo Pugliese's orchestra, but the word "Yumba" cannot be found in a Spanish-language dictionary. In fact, Yumba is an onomatopoeiac reference to the strong rhythmic element played on the bass in that piece of music. The sound is created by a slide on a string combined with a striking of the body of the bass. Pugliese used this strong rhythmic element in many of his recordings, and it and became a defining characteristic of his most well-known recordings. According to tango historian Ruben Terbalca, "Negro Thompson" pioneered this approach to the bass in 1912 to imitate African percussion while playing a style of music known as "toque canyengue." As first used, it was a quick percussive element. Some 30 years later, Pugliese slowed it way down to create the familiar and defining Yumba beat.

---
Argentine Tango Survey
17 August 2004 — Stephen Brown
The Brattleboro Area Argentine Tango Society (BrAATS) in Vermont is conducting an online survey about the characterstics and preferences of people who Argentine tango. The current survey results are available here.
If you are interested in participating the survey, click http://www.AdvancedSurvey.com/, which is the Advanced Survey Homepage. When you arrive at the Advanced Survey Homepage, type the survey number 13300 in the box to right "Take A Survey" and click GO. Doing so starts the survey. The society requests that each individual complete the survey only once.
For more information about the Brattleboro Area Argentine Tango Society, take a look at the BrAATS webpage.

---
The Road Not Taken
12 August 2004 — Susan Brown
Two roads diverged in a yellow wood,
And sorry I could not travel both
And be one traveler, long I stood
And looked down one as far as I could
To where it bent in the undergrowth;
Then took the other, as just as fair,
And having perhaps the better claim,
Because it was grassy and wanted wear;
Though as for that the passing there
Had worn them really about the same,
And both that morning equally lay
In leaves no step had trodden black.
Oh, I kept the first for another day!
Yet knowing how way leads on to way,
I doubted if I should ever come back.
I shall be telling this with a sigh
Somewhere ages and ages hence:
Two roads diverged in a wood, and I —
I took the one less traveled by,
And that has made all the difference.
by Robert Frost

---
Becoming a Good Tango Dancer (2)
9 August 2004 — Stephen Brown
On Tango-L, Robert Hauk of Portland, Oregon writes:
"In my experience as a dancer, musicality is the most important thing a dancer has to offer, leader or follower. Good technique matters, but without musicality the dance suffers. I have danced with women whose technique was not great, but whose musicality was so strong that they were a delight to dance with. I don't particularly enjoy dancing with someone whose technique is great but whose musicality is weak.
"In my own dancing what it means to dance well changes with the years. My experience of the dance is deeper and richer now after dancing tango for nearly 9 years. Each year I seem to learn something significant that takes my dancing to another level, the last two years especially. Each year I know the music better, and feel more layers and more subtle things. This deeper feeling of the music changes my dancing for the better. I hope this process never ends for me.
"Every person will progress at their own rate. What some can do in one year, it will take others three years to do. People can get so worried about how quickly, or not quickly they are progressing that they may forget to enjoy where they are. There is, hopefully, no end to the learning so in the end it doesn't matter so much how quickly one learns."

---
Becoming a Good Tango Dancer
6 August 2004 — Stephen Brown
How long does it take to become a good tango dancer? On Tango-L, Brian Dunn of Dance of the Heart in Boulder, Colorado writes:
"[H]ere's a few numbers, for what they may be worth:
"30-90 minutes — The average time in class for a 'middle-of-the-bell-curve' person to successfully demonstrate the ability to both lead and follow a subset of rudimentary tango steps safely and considerately around the floor in typical 'milonga conditions' in close and open embrace (based on our experience).
"4-6 months — the point in an aspiring tango dancer's education that several well-known Argentine instructors defined for me as the time to shift in primary focus away from 'step vocabulary' toward an intensive immersion into tango music — in the car, in the shower, at work, at home, etc.
"5 months — the typical length of time Carlos Gavito suggested it would take a reasonably talented follower, if she worked hard with good leaders, to become 'good.'
"2 years — an initial period of time at the start of the local Colorado tango community that a well-known local instructor described as 'beginners teaching each other their mistakes.'
"2 years — the length of time Mariano 'Chicho' Frumboli's current partner, Maria Eugenia, had been dancing tango before they debuted as a world-class tango teaching/performing couple.
"10 years — the typical length of time Carlos Gavito's parter Marcela Duran suggested it would take for a leader to become 'good.'"

---
Excellent Teachers
16 July 2004 — Stephen Brown
On Tango-L, Rose of Portland, Oregon writes: "I believe that the goal of an excellent instructor is to develop each student's potential in effort to reveal what it is that each student uniquely strives to express. A student's dance should not be the master's dance. Each person has their own voice, their own dance. The instructor's job is to help the person develop the skills to express themselves." In another post, Rose adds: "How a person steps is going to make a big difference in his dancing. The way a person dances is as individual as the way he walks. But I think to a beginning dancer, to teach him something particular about where to place the weight on his foot is going to cause him to focus on his feet rather than on the heart where his tango should come from. Later he can refine his walk."

---
Art as an Expression of Oneself
16 July 2004 — Stephen Brown
On Tango-L, Rose of Portland, Oregon writes: "[A]ll art is an expression of ones self first and translated through the skills that one has second. The skill is the tool by which you can communicate your inner feelings. In fact, I would say ..., that the feeling develops the skill. The very desire to learn the skill stems from a desire to express something. Why would I learn to write, paint, dance if I had nothing to say? This is the very reason that technique varies from one person to the next."

---
Tango Terminology
15 July 2004 — Stephen Brown
We are pleased to add A Guide to Tango Terminology to these pages. The guide was compiled by our friend Ed Loomis of Sacramento Tango. A number of years ago, Ed begin putting together what has become one of the most complete guides to tango terminology. He started with Daniel Trenner's Puente al Tango: Spanish-English Dance Vocabulary, Garritt Fleischmann's Definition of Tango Terms on the Frankfurt Tango Home Page (now Cyber-Tango), and vocabulary Danel and Maria published in their Tango Times. He added information from a variety of other sources. Earlier versions of Ed's guide appeared on several other websites. Susan and I recently made an agreement with Ed to keep an updated version of his guide on our website. I have added alphabetical indexing and made cross links between entries in the guide. Take a look at what Ed has created: A Guide to Tango Terminology.

---
What's New?
22 June 2004 — Stephen Brown
Interesting to think about the variations of the word "new" that are currently in use by Argentine tango dancers. New Tango is used to refer to the music of Astor Piazzolla and the contemporary orchestras who follow his approach by relying heavily on rubato playing and abrupt tempo changes to create their dramatic effects. Nuevo Tango refers to a pedagogic approach to tango dancing developed by Gustavo Naveira and Fabian Salas that emphasizes a structural analysis of the dance in which previously unexplored combinations of steps and new figures can be found. It can also mean the style of dancing that comes from that analysis. Neo Tango refers to two genres of music that are used for dancing tango: tango fusion and "alternative" tango.
Tango Fusion integerates traditional tango rhythms and instrumentation with other musical traditions, contemporary instruments and electronica to create a modern and culturally relevant world tango music with a dance-club sound. Some of the better-known tango-fusion artists are Gotan Project, Bajofondo Tango Club, and Carlos Libedinsky. Alternative Tango is the term used to describe tango music from other traditions or non-tango music that some dancers find interesting for dancing Argentine tango steps.

---
To Embrace
13 June 2004 — Stephen Brown
If you draw a line
Precisely safe and parallel to mine,
We can sail together
Clear on past the stars
And never meet.
And since the holes between
These points of distant heat
Are deep and blind,
Sight a course for collision
And hang on tight ...
The precision of our loving
Is the lethal kind.
"Geometry" by Ken Kesey

---
Shall We Dance?
10 June 2004 — Stephen Brown

Portraying a dance instructor, Jennifer Lopez holds one student while telling another, John Clark (played by Richard Gere), "You have to hold her like you're going to have your way with her, right here on the dance floor."
Featuring ballroom dance (not Argentine tango), the American Movie, Shall We Dance? with Richard Gere, Susan Sarandon, Jennifer Lopez and Anita Gillette is a remake of the1997 Japanese movie of the same name. Originally scheduled for August release, then moved up to July and back to August, the film is now due in theaters in October 2004. To see the trailer, go to the Miramax website for Shall We Dance.

---
Denver TangoFest Recap
9 June 2004 — Stephen Brown
Organizer Tom Stermitz reports that attendance at the Denver Memorial Day Weekend Tango Festival was approximately 400, with about half of the attendees from outside Colorado. That makes Memorial Day 2004 the largest tango event in Denver. The Cheesman Park Pavillion is a special venue, and the sight of the largest crowd yet dancing at the outdoor milonga there must have been special. (See photos of the Pavillion on Tom Stermitz' website and photos of some of the dancing on Deb Sclar and Brian Dunn's Dance of the Heart website.)
According to Tom's figures, among the visitors were 23 dancers from New Mexico, 19 from Ann Arbor and Detroit combined, 13 each from Dallas and Seattle, 11 from Portland (Oregon), 9 from New York City, and 6-8 each from Boston, Kansas City, Memphis, San Francisco, St. Louis, and Washington, DC.
One of the nicest aspects about the tango festivals in Denver and some other cities is the development of a shared national tango community with an emphasis on social styles of Argentine tango.

---
Techno Tango
3 June 2004 — Stephen Brown
Controversial from its beginnings, techno tango (also known as tango fusion and neo tango) mixes machines with tango to give birth to a polemic 2x4 techno sound. While some dancers love to dance to techno tango and expect to hear it at the milongas they attend, the traditionalists express considerable disdain for the genre. Not surprisingly, the controversy extends past the dance floor and onto the bandstand and into the recording studio. According to an article that originally appeared in the June 2004 issue of Let's Tango (a magazine from Buenos Aires), "Bandoneon player Rodolfo Mederos, an innovator who played with Pugliese and Piazzolla, described techno tango as 'a way of ignorance,' and considers it a wrong course for aesthetic search. On the other hand, Adriana Varela and Raúl Lavié approve of the trend and are even putting their voices among beats and samplers."
Some of the popular recordings that integrate tango and techno sounds are Narcotango by Carlos Libedinsky, Astornautas by Ultratango, Satrango by Satragno, La Revancha del Tango by Gotan Project, Tango Crash by the duet of Daniel Almada and Martín Iannaccone, and MacDougall Tango an EP by a group of the same name from the San Telmo Lounge.
You can read more about this musical genre and some suggested recordings on Sharna Fabiano's Rise of Neo-Tango Music and DJ List of Neo Tangos, Jackie Ling Wong's Neotango Zone and my DJ's Guide to Neo-Tango Recordings.

---
Denver TangoFest Photos
3 June 2004 — Stephen Brown
May 26-31, tango aficionados gathered from all points of the compass to meet in Denver, Colorado for Tom Stermitz' annual Memorial Day TangoFest—to see old friends and make new ones. The festival included workshops taught by Julio and Corrina, Brigitta Winkler, Alex Krebs, Homer Ladas and Heather Morrow. But the focus of of the Denver TangoFests, which are held on Memorial Day and Labor Day weekends, is to dance the days and nights away. The Sunday milonga in Cheesman Park is always the most special milonga during these two truly fabulous annual tango weekends. As in recent years, the incomparable Extasis provided live music at some of the milongas. DJs Robin Thomas, Dan Boccia, Ramu Pyreddy and Lisa Battan played recorded music for dancing.
Photos of the Cheesman Park Pavillion can be found on Tom Stermitz' website. Photos of some of this year's dancing can be found at Deb Sclar and Brian Dunn's Dance of the Heart. Photos from the 2003 Labor Day TangoFest can also be found on Tom Stermitz' website.


---
No Right or Wrong in Tango
3 June 2004 — Stephen Brown
On Tango-L, Antonio Cervila Junior writes, "Why do people try to say what is right and what is wrong in tango??? This is popular dance and as a popular dance there is no right or wrong. There is a way that you feel comfortable. That doesn't mean that is the only way or even the 'right' way. Classical ballet has its rules and it is like that all over the world. But you can't put rules on a dance created on the streets. Rules limit its development. A teacher must not be a dictator, but only show the way that he prefers. The student is free to choose the different styles, or even better a mix of all creating his own style."

---
Stretching Exercises for Tango Dancers (2)
2 June 2004 — Stephen Brown
In response to my query, Victor Levant sent me an email about the stretching exercises he asked Bob Anderson to develop for tango dancers, "I began from the point of view of a novice, who initially saw the tango stance as a rigid one—undoubtedly a factor of my own instability on one leg or the balls of my feet. I often found myself hurting after dancing with my partners. And they too. Watching teachers and visitng dancers, dancing with them in a class or a milonga, they felt like putty/spaghetti, I couldn't lead them...they were so loose in their bodies. I began to stretch my hamstrings and found that I was more at ease. So I contacted Bob Anderson and discussed the notions of frame, disassociation, static posture, knee injuries, lack or shortness of muscle around knee caps, etc. And he kindly put together the exercises. Some friends here in Montreal and I find them useful. I believe salsa dancers would like them too."
Update 18 May 2005: The exercises can be found as a pdf file, Stretching Exercises for Tango Dancers, on the website dekay.org.

---
Intelligent Dancing
2 June 2004 — Stephen Brown
Christy Coté, a tango instructor from the San Francisco Bay Area, and Dance Vision USA have collaborated to create and disseminate a syllabus for a standardized version of Argentine tango. Dance Vision USA is releasing an extensive series of videos in support of the syllabus, and Christy is teaching master classes for those who wish to become certified to teach from the syllabus.
Over the years, a number of different tango instructors with a background in ballroom dancing have attempted to create syllabuses for a standardized Argentine tango. None of these syllabuses has gained widespread acceptance among Argentine tango dancers. Of course, no syllabus has been written by an Argentine who is accepted as a master of the dance. Perhaps more importantly, the process of standardization necessary to produce such a syllabus loses the relationship, the individual expression, improvisation and range of personal styles that are at the core of Argentine tango. On Tango Talk over at Tango Noticias, Pichi well expresses the general attitude that most good Argentine tango dancers take toward a syllabus for a standardized Argentine tango. She writes, "Don't we already have enough tango robots on the dance floors?"
Although we tango dancers tend to associate syllabuses with ballroom dancing, Richard Powers distinguishes between authority-based dancing and intelligent dancing in a manner that applies equally well to ballroom dancing and Argentine tango. In his essay Intelligent Dancing, Richard writes the following comments about authority-based dancing, "Some studios would rather train their dancers to respond in only one way to a given situation—the authorized 'correct' way. Steps and patterns are predetermined by authorities so that the dancers have very few decisions to make, if any. ... And the woman's role is doubly automatic, not only following the trainer but also her male partner. Personal variations away from his lead are considered mistakes and are to be eliminated. Steps and styles outside the syllabus are 'incorrect.'"
In contrast, Richard describes intelligent dancing as involving both partners being spontaneously open to the infinite possibilities of the moment, while responding to each other and the music. The flow of the dance is a three-way communication between man, woman and music—with each contributing something.

---
Stretching Exercises for Tango Dancers
1 June 2004 — Stephen Brown
In 2002, Montreal tango dancer Victor Levant contacted stretching guru Bob Anderson for assistance in stretching exercises. Bob Anderson kindly put together the three series of exercises that were found on Victor's now closed website Stretching Exercises for Tango Dancers. Bob seems well qualified for the task. His book Stretching has been translated into 25 languages and has sold 5 million copies. For more information about Bob's work, see his website, Stretching Online. It would be nice to know how the exercises on Victor's website address the particular needs of tango dancers.
Update 18 May 2005: The exercises can be found as a pdf file, Stretching Exercises for Tango Dancers, on the website dekay.org.

---
Tango Takes to the Air in Colorado
1 June 2004 — Stephen Brown
Saturday, May 22, Brian Dunn and Deborah Sclar co-produced a one-time theatrical show in Boulder called AIResTANGO which offered to audiences a performance experience composed of tango dancing, tango-inspired aerial art, live and recorded tango music, and tango historical narrative.
In an email, Deb Sclar writes: "We are exhaling after the close of our show last Saturday, which includes sending profound gratitude and appreciation to everybody who lent a hand, encouraged us from afar and/or took a chance with your Saturday night last weekend, by attending our performance. How can we thank you all????? We were overwhelmed by the heart-warming appreciation we received from our audience. We have a thousand improvements and refinements we're eager to apply before we bring AIResTANGO back to the stage (which we hope will be SOON)."
In response to multiple requests, Brian and Den assembled a web-page of photos and other AIResTANGO details, including the audience onstage after the show for an impromtu tango lesson. To check out the photos, see the AIResTANGO webpage at Dance of the Heart.

---
Leading and Following
28 May 2004 — Stephen Brown
According to Polly McBride at Tango Quest, three attributes are mentioned most often when followers describe their favorite dance partners: feeling safe, a comfortable frame and musicality. She says that followers are responsible for developing skills that contribute to connection, beauty and elegance.

---
More on Dancing at Tango Festivals (3)
28 May 2004 — Stephen Brown
In an email, Polly McBride of Portland, Oregon writes: "Dancers who know each other from other areas and who meet at the event to only dance at milongas, change the ambiance and interaction among dancers who have been in attendance at the workshops. Some beginners and slightly experienced folks become resigned to the sidelines. With no clear solution in sight, this situation will continue, and new dancers will just need to put in their time and make acquaintances with enough partners that this will not interfere with their evening."
See Polly's Tango Quest.

---
Tango Animation Online
26 May 2004 — Stephen Brown
Artist Nuria Juncosa emailed that she has made her website into an interactive animation art movie called Recursion. She adds "Recursion is a strange loop composed of many movies." To be more specific, each animated scene within Recursion contains links to other animated scenes. Nuria's friend, Juan Maria Solare composed and created the music for each of the scenes. According to Nuria, Recursion will never be finished because it keeps growing as she adds more scenes. Currently, she has more than an hour of animation online, including a tango scene. To access the movie as the artist intends, go to www.la-nuria.com. Viewing the movie requires a Flash plug in, and I found navigation to be a bit tricky.

---
More on Dancing at Tango Festivals (2)
25 May 2004 — Stephen Brown
In an email, Rose from Portland, Oregon offers some additional comments about dancing at crowded milongas.
I think it has less to do with level of dancing, beginning, intermediate, hot shot etc... and more to do with how conscientious the leader is to other dancers and the space around him.
I have danced with plenty of beginners who have no problem navigating because in crowded situations they know they do not have the skill to try anything fancy so they just walk when they can and rock back and forth when there's no room and never bump into anyone.
The people who cause problems are usually either so absorbed in expressing something in the music that they zoom about without regard to the disruption they may be causing. Or they are concentrating so hard on the step they are trying to execute that they don't realize when someone is behind them or in front of them or whatever. In either case it is unlikely they even realize they are causing a problem because they are not aware of the space around them.
When I find myself dancing with one of these leaders I tend to become rather edgy, keep my eyes open and try to avoid taking steps that will cause collisions or I take them smaller than led.
In Portland, Robert Hauk does a very good job of teaching beginning students pay attention to their partner, the music and the space around them. In his Monday night class he stresses that taking care of his partner is a leader's number one priority. Part of taking care of her is not leading her to step into other people.

---
More on Dancing at Tango Festivals
25 May 2004 — Stephen Brown
In an email, Tom Stermitz of Denver offers some helpful hints for dancing in the crowded conditions typical of festivals (and Buenos Aires).
(1) Do not step backward. Do not do a back-step against line of dance. Do not move in a direction you cannot see. If you learned the "8-Count Basic with Dreaded Backstep"... un-learn it because it does NOT work on a social dance floor. If the person in front of you suddenly steps backward, put up your hand to keep them from smashing their heel onto your partner's achilles tendon.
(2) Memorized 12 and 8 step figures will not function. You have two ways to approach improvisation. Learn to split the figure into a different ending when you realize your first idea is leading to trouble (this requires higher level tango skills). An easier strategy is to utilize 4 and 2 count figures (elements). The rock-step is a good defense against a potential collision. Drop all the hot moves you just learned in class, but haven't quite mastered. Learn to do very tight circular moves.
(3) Social Tango in Buenos Aires is a dance around the perimeter of the room. It is RECTANGULAR, rather than circular. (Performance tango is the opposite, requiring you to fill the interior space of the stage). Crowded conditions are best handled by setting up lanes. The outer perimeter of the floor is the first lane. When that gets too full, use the 2nd lane, and then the 3rd. The outer lane tends to be safer, as you have potential collisions only from the inside.
(4) In order to create a rectangular floor, dance ALL the way into the corners, where you are protected on two sides, and maybe have a little room for a fancier move. If you cut the corner, you have just eliminated a space that would have fit in 2 or 3 more couples, then the next lane knocks of a couple more... multiply times four corners, and you see this has a lot of impact.
(5) Entering a lane from the side, is like merging into traffic; don't stop and meditate on your partner's lovely embrace while the lane stalls behind you. If there is a gap in front of you it probably means a pile up behind you. Take a few traveling steps to close the gap. When the floor is moving nicely, everyone progresses slowly and steadily around the room: a few steps forward, a couple rock-steps; a little turn to see where the next gap is; safe in the corner, do a little figure; walk into the new space; ocho cortado in place, etc
(6) Dance very close to your partner; use smaller steps; don't whap people with big-kicking boleos. While we no longer settle collisions with a knife fight in the alley, bumping other people is not considered to be good form. Don't zig-zag across the lanes. At some of these festivals you see a few dancers zipping around really fast. Avoiding collisions, they think they are pretty hot, ignoring the wake of disruption they have created by all the near-misses.
(7) Meeting people at big events can be daunting as many people already have friends from multiple trips to Portland, Denver, Ann Arbor, Washington DC, Buenos Aires, etc. The workshops are a great place to circulate as all the teachers rotate partners. Invite your new friends out to dinner, arrange to meet them later, and promise to see them again at Labor Day in Denver or October in Portland.

---
Inside the Dream: Celebrating Women Who Dance Tango
24 May 2004 — Stephen Brown
The Tango Calendar Girl Project—organized by a group of women who dance Argentine tango in Dallas—is producing a 2005 calendar with photography by Candice White that celebrates women who dance tango. According to the project's coordinators, the calendar itself is a work of art celebrating the beautiful, truthful and sometimes difficult nature of tango and how dancing changed their lives. Each calendar will be $19.95 plus tax and shipping (if applicable). Information about the calendar is available on the webpage for The Tango Calendar Girl Project.

---
Inside the Dream
24 May 2004 — Stephen Brown
"In tango, dancers search for that elusive moment when there is no longer any difference between dream and reality." The Tango Calendar Girl Project


---
Dancing at Tango Festivals
23 May 2004 — Stephen Brown
Many of the people who attend tango festivals go for the dancing rather than the instruction. The tricky part is in breaking into the dancing. At the crowded milongas associated with the big tango festivals, most people will dance with people they already know. For those dancers who are not already well known attending the classes is a great way to meet people and break into the dancing.

---
The Summer Festival Season Is Upon Us
23 May 2004 — Stephen Brown
The Miami Tango Fantasy got underway this weekend, opening a summer full of tango festivals. Here is a list of most of the festivals scheduled for this summer.
The list has been deleted. For a current worldwide list of tango festivals, see Tango Festivals and Other Events on this website. Another resource for festival information is Tobias Conradi's festivals.tango.info.
It's hard to imagine, but in the early 1990s, the Stanford Tango Week was just about the only tango festival during the course of a year.

---
The Best Teachers
23 May 2004 — Stephen Brown
Over at dekay.org, Daniel Käsmayr writes: "It is essential that teachers provide ideas, concepts—not just steps and sequences. I know many students seem to require steps, fancy steps, sequences. And it hurts to see them waste their energy and time to master them. At the same time this seems to be the most economic way for teachers to do so. (As a side note: I believe the whole universe of partner dancing can easily fall into this trap of steps/sequences vs. style/feeling/expression). Of course the student is your customer and thus deserves attention—you cannot change them, but you can give them bites of that 'more' that there is in tango. I firmly believe that teachers always have the responsibility to get their students on their own feet, give them the tools for createing their own experience, also demand esponsibility for their own actions. And I totally agree that a teacher who spends too much time telling about the 'meta'-tango is wasting time—or wants to impress. A healthy balance is needed."
"If I look back at my tango life so far—the best teachers were not the ones teaching me complicated steps—but they were teachers expressing style in their own thoughts, movements. Of course it is always fun to master a new step or fail miserably. But what really changes you is basic technique like posture—and feeling, emotion, connection."
Strangely enough, Daniel wrote his remarks in seeming disagreement with my May 18 comments about what I see as the futility of trying too hard at Teaching the Inner Essences of Tango. I don't see anywhere in my comments where I advocate teaching step patterns. In fact, I am opposed to the idea of teaching or dancing tango as a collection of step patterns. (I wonder if the teaching of step patterns is so ubiquitous that it is presumed that someone who suggests that students must find their own way through the door to the inner essences of tango is justifying/advocating teaching step patterns.)
What I am saying is the best teachers teach movement rather than spending class time talking. I agree with Daniel that the best teachers lead their students to the door of inner knowledge and inspire their students to step through. In the end, however, those who would become tango dancers must step through the door and find the knowledge in themselves.

---
Cliquishness at Milongas
19 May 2004 — Stephen Brown
One of the most common forms of seeming cliquishness that one can observe at milongas is dancers sorting out by teachers. Those who have learned from one local teacher may not dance much with the students of another local teacher. Personally, I doubt that the participants have the intention of creating exclusive cliques. This seeming cliquishness more likely results because those who tend to dance together are more familiar with each other and have compatible dance skills.
Most people are more comfortable interacting with people they already know. A gender imbalance compounds the issue because it is very difficult for the men to leave the women who they know and have practiced with to go dance with others. Most men owe a considerable debt to the women who were their partners while they were learning to dance tango.
For relatively new dancers, differences in styles and teaching methods may also create incompatibilities. One teacher may teach milonguero, another salon, another nuevo, and another fantasia. Some teachers may emphasize lead and follow skills and improvisational techniques while others teach memorized figures.

---
Lao-Tzu on Leadership
19 May 2004 — Stephen Brown
On Knowledge Problem, Lynne Kiesling posted a quote from Lao-Tzu that I have always liked:
A leader is best when people barely know that he exists,
Not so good when people obey and acclaim him,
Worst when they despise him.
"Fail to honor people, they fail to honor you;"
But of a good leader, who talks little,
When his work is done, his aim fulfilled,
They will say "We did this ourselves."

---
Teaching the Inner Essences of Tango
18 May 2004 — Stephen Brown
In recent years, I have begun to think that teachers can easily fall into the trap of trying too hard to teach the inner essences of tango—such as, connection, musicality or improvisation. A good pedagogy can support the development of connection, musicality, improvisation and other inner essences of tango, but the pedagogy only takes the students to the door. The students must step through the door on their own if they are to become dancers who fully understand and appreciate how these inner essences contribute to tango.
Good teachers can be inspiring, and good pedagogy can be extremely helpful in pointing students in the right direction. You can talk about connection and teach the mechanics of a good embrace, but the dancers have to find connection in their own hearts and souls. You can suggest ways to interpret the music and teach rhythmic tango movement, but the dancers have to find musical expression in themselves You can explain that tango is improvisational and teach basic tango movements and/or systems for breaking down step patterns, but the dancers still have to improvise on their own.
When a teacher uses extensive class time trying to explain their own understanding of an inner essence, they are likely to be wasting their own efforts and their students' time. When it comes to movement, knowledge cannot be poured in a student's ear. Dancers develop best through their own experience of movement.

---
What About Leading?
18 May 2004 — Stephen Brown
Richard Powers writes: "The best dance partners now know that a part of great leading is following. This means he is perceptive and responsive to her situation. He visualizes where his partner is going, where her feet are, where her momentum is heading, which steps flow smoothly from her current step. He knows and cares what is comfortable for her, what is pleasurable or fun. He dances for his partner's ability and comfort. A good lead clearly suggests an option, which is different from controlling her. He proposes, not prescribes, a certain way of moving to his partner. If his partner does not go with his proposal (does not 'follow'), he refrains from exerting more power to press her to accept the proposal." See Richard Powers' further thoughts and musings on Ultimate Partnering.

---
The Gift of Tango
17 May 2004 — Susan Brown
Tango is an adventure people undertake because it seems so fun, passionate, sexy and thrilling. And it is. But it also hides a secret gift. To dance tango, you must learn to see yourself for all you are—the good and the not so good—and be willing to dance it out in the world in the arms of someone you may or may not know. When you dance tango beautifully, you have learned to accept the person you are. When you dance, you may never say a single word to your partner, but if you share that experience with another person, and they share themselves with you, then you have received the gift of tango.

---
Following Doesn't Describe the Role
17 May 2004 — Stephen Brown
Richard Powers writes: "The main reason I don't like the term following is that it doesn't accurately describe the role. Women do not 'follow,' they interpret signals they're given, with a keen responsiveness that is not passive. The follow role is mentally and physically active, like the flow state in sports. We admire the football player who zigzags brilliantly through the field, completely aware of his surroundings and responding instantly to each moment, rather than the one who uses brute force to steamroller straight into the opponents, or the one who slavishly follows a game plan which is no longer working. The nimble, intelligent player, and the woman's role in dancing, are both the flow state of relaxed responsiveness, paying highly active attention to possibilities." See Richard Powers' further thoughts and musings on Ultimate Partnering.

---
Why Biased Views Are Self Perpetuating
15 May 2004 — Stephen Brown
According to research by Wing Suen, biased views are likely to be self perpetuating if information is costly (which it nearly always is). When information is costly, individuals with biased views will give less weight to information coming from people they know to frequently disagree with themselves and more weight to people they know to frequently agree with themselves. The more biased an individual's view is, the stronger will be the contrary evidence necessary to change the view. Only when a biased person receives contrary opinions from people who are thought to be sufficiently like-minded will contrary opinions be given much weight. Not surprisingly, biased views can lead to increased polarization between different groups of people—as the population pulls into self-reinforcing groups that tend to exclude outside opinion. (From the April 2004 issue of The Economic Journal)

---
Ultimate Partnering
14 May 2004 — Stephen Brown
According to Richard Powers, "Knowing many dance steps and figures is fun, but the true art of social dancing, and its greatest pleasures, lie in great partnering. As the tune goes, it ain't whatcha do but the way that you do it. The nonverbal lead-follow connection between partners is the essence of social dancing." See Richard Powers' further thoughts and musings on Ultimate Partnering.

---
On Seeking Heaven Rather than Perfection
14 May 2004 — Stephen Brown
When we are dancing tango, we can have a much more interesting experience if we focus on the music and our partner rather than whether we or our partner are executing moves properly.
There is a folk song that says, "When you go through life, make this your goal; watch the donut, not the hole." For me, watching for my mistakes or my partner's mistakes is watching the hole.
Personally, I found that some absolutely wonderful tango experiences seduced me into seeking perfection, which led me to blame myself and my partners (often without their knowledge) for "mistakes" that kept the dance short of perfection. I have recognized my perfectionist ways and am somewhat reformed. My own belief is that we cannot find heaven when we are seeking perfection.
Classes and practicas are the time to focus on refining technique and building knowledge. But even in such activities, I have found through my own experience that attempting to answer the question about whose mistake it is leads to more trouble than most of us really like.

---
American, Argentine and International Tango
14 May 2004 — Stephen Brown
In 1985, Barbara Garvey compared three types of tango: American, Argentine and International. She said, "American tango is when a couple is on their honeymoon—it's romantic and sexy with both on their best behaviour. Argentine tango is the whole of the relationship—with all the passion, pain, sorrow, joy, anger, humor, of real life. International tango is when the couple can't stand each other and stay together just for the sake of the children."
Barbara's comments were reprised in an article about Argentine tango in Smithsonian magazine in November 1993. Offering so much insight and being so quotable, Barbara's comments have passed into the lore of Argentine tango.

---
What Appeals to Today's Tango Dancer
13 May 2004 — Stephen Brown
Occasionally people look at the roles for men and women in Argentine tango as the idealized expression of courtly manners in a culture and era that is different from that found in most U.S. cities today. Personally, I doubt that the opportunity to masquerade as an idealized man or woman is why tango speaks to people all over the world today. Argentine tango is not an opportunity to wallow in nostalgia for an idealized era that never quite existed—when men were ideally masculine and women were ideally feminine
I doubt many of today's tango dancers would have put much effort to develop their skills in a dance that is archaic or expresses an archaic view of the world. Tango speaks to us now because it provides a way to express oneself in the arms of another. No more and no less. Self expression is what appeals to today's tango dancer.

---
Dancing with Grace
13 May 2004 — Stephen Brown
In dancing and teaching tango what I observe is that dancing tango is an expression of how the person presents themselves in the world. We dance who we are. Those who are argumentative, dance argumentatively. Those who are aggressive, dance aggressively. Those who lack confidence, dance without confidence. Those who are shy, dance faintly. Those who are verbal, dance with their mouths. Dancing tango with observable grace calls for a balance of energies, and that balance might be called grace.

---
Yin and Yang of Tango
13 May 2004 — Stephen Brown
As in all things, dancing tango calls for the proper balance of yin (the feminine) and yang (the masculine).
Too much yang and the man is too abusive and controlling to be a good dance partner. Too little yang, and he does not have the strength of heart to lead or create the dance.
Too much yin and the woman is too weak to contribute to the connection and interchange that is tango. Too little yin, and she refuses to listen to the lead.

---
Developing Ease
13 May 2004 — Stephen Brown
Developing ease in dancing tango is largely a matter of practice. In fact, practice is the most essential ingredient in learning to dance tango—so much so that I find it better to think of instruction as only providing guidance about how to dance. Through practice, dancers find tango in their own bodies, and in doing so get away from the internal voices of criticism.
Some instructors take the approach of attempting to clone students in their own particular way of dancing tango. In taking this approach, an instructor typically supplies an external voice of criticism that works in conjunction with the student's internal voice and keeps the student away from ease. Strangely enough the combination of internal and external criticism frequently drives the insecure student into more classes and workshops—during which the instructors offer more detailed instruction on dancing like themselves. Frequently, such students fail to practice because practice does not offer the instructor's direction. Yet, the lack of ease drives the student into more classes and workshops. The consequence is a spiral away from ease. Practice reverses the spiral, and takes the dancer toward ease.

---
Dancing in the Music
13 May 2004 — Stephen Brown
I think are at least two musical divides in dancing tango. There is the well-recognized divide between those who dance to the rhythm of the music and those who do not. Among those who dance to the rhythm of the music, there is another divide between those who dance doggedly to the beat and those who are interpreting other rhythmic elements in the music as well as dancing to the beat.
The latter group can be thought of as being in the third category of musicality. Dancers in the third category exemplify the idea that it is not necessary to dance tango only to the beat. In order to reach the third category with any degree of musicality, however, a dancer must first learn to dance to the beat. Unfortunately, some dancers who have not yet connected with the music confuse entrance into the third category with disregarding the beat.

---
Dancing on the Beat
13 May 2004 — Stephen Brown
If we take the approach that it is strictly up to the leader to keep the follower on the beat, we immediately come up against a couple of big challenges. First, the leader can indicate when it is time for the follower to begin her step, but he has little control of when she finishes it. Second, on some turns—those where he is pivoting on his axis—the leader has very little control of when the follower may begin one of her steps. Consequently, I am inclined to regard keeping the beat as a collaborative effort. It is actually the job of the follower to step on the beat herself, and it is the job of the leader to facilitiate her efforts by marking her step at the proper moment. Leading the follower to be on the beat requires that the leader give the follower enough advance notice about what the next step will be and what, if any, the changes in timing might be.

---
Open Architecture and Tango
13 May 2004 — Stephen Brown
The English language originated with the Norman conquest of England. The combination of the German dialect spoken in Anglia and the French spoken by the Normans became a pidgin language spoken in England. Eventually the English forced their language on other people in the British Isles—including the Scots, Welsh and Irish. Despite its disreputable origins, English eventually became a world language.
During the era when England was the dominant world power, however, French, German and Spanish had more cachet as international languages. The internationalization of English owes to the open architecture that Americans introduced into their English. With open architecture, anyone can introduce new words. The Japanese created the term "WalkMan." In contrast with French, which has an academy that jealously guards what can be considered French, anything can come into usage in the internationalized American English as long as it is accepted by users. Consequently, "American" English gained dominance with globalization. This story is similar to the domination of the PC over Apple computers. Open architecture creates a product to which more people can contribute and more people can use.
Open and closed architecture are likely to have similar effects in social dancing. Syllabus-restrained forms of dancing will lose their vitality over time, eventually becoming vintage dances to be reconstructed by a future dance professor. Dances that are open to evolution will remain vital, even if they are complex.
Argentine tango has open architecture and continues to evolve. People can combine elements from styles that were considered completely separate 10 years ago and find acceptance. People can introduce new ways of dancing or looking at the dance—as the nuevo-style dancers have done—and those innnovations have a chance of being accepted into the dance. Of course, someone can say, "Argentine tango isn't what it used to be," but such comments are a sign of vitality and not likely to be of much concern to those who are busy dancing tango and expressing themselves.
As Richard Powers says, "As a dance historian, I have seen, over and over again, a dance form dies out when it became too rigidly standardized. The dances that thrive over time are the ones that keep evolving to incorporate aspects from current culture. The tango underwent great changes in Buenos Aires during the 20th century because it was a healthy, living, evolving form. Even though some groups want to kill this evolutionary process with their insistence that dancers conform to their one 'correct' style, there are enough enlightened groups out there to keep the tango alive and thriving." (See Jackie Wong's interview of Richard Powers.)

---
On Language and Tango
13 May 2004 — Stephen Brown
Tango may be more widely danced than Mandarin or English is spoken, but let's recognize that tango's coverage is quite spotty. Given the communication that is possible through tango, it seems amazing that dancing tango would take a back seat to speaking an additional language.

---
Developing Mastery
13 May 2004 — Stephen Brown
Recently when I was playing several pieces of music that I haven't really mastered on my guitar, I realized that if I put too much effort into the mechanics of my playing it took away from the feeling of my playing, but if I didn't put enough effort into the mechanics of my playing, the music deteriorated from a lack of execution. What I recognized for myself is that mastery comes from developing a big difference between too much and too little attention to the mechanics, so that I am not sitting on the knife edge between two different types of failure. In playing the guitar, mastery comes from practicing enough to develop what pianists often call "touch." I think this idea of developing touch carries over to improving tango dance skills. If we use practice to refine our mechanics, we can build our dance skills to the point where there is a big difference between too much and too little attention to the mechanics.

---
Dancing Their Own Style
13 May 2004 — Stephen Brown
Most tango dancers start by learning the style(s) they are taught by their first few instructors. The really good dancers have given themselves the freedom to express the music in their own personal way without worrying about what style they're dancing. These dancers have gone beyond dancing someone else's style to dancing their own.

---
A Tender Embrace
13 May 2004 — Stephen Brown
Many people who dance tango use a firm frame, and many instructors teach a firm frame. In my experience, however, I find that a firm frame is neither necessary nor desirable for dancing tango. Open or close, I always prefer a soft embrace (and no leading with the arms).
In saying that I prefer a softer embrace, I mean that I want the embrace to have enough softness in it to provide some flexibility for movement. At the same time I would prefer to feel the energy of my partner in the embrace. If we are in an open position, a little bit of energy in our arms is helpful because our chests are less able to transmit and receive the all of the energy we may choose to express, but our chests remain the primary conduits for the energy.
I would not deny the authenticity of firm or rigid embraces. Some of the best known stage dancers use relatively strong embraces, as do many social dancers in Buenos Aires. I am just saying that I prefer a softer, tender embrace. I will say, however, no woman has ever asked me to make my embrace firmer and that has been many years since any woman has told me that my lead was unclear. At the same time, the women with whom I most enjoy dancing give me the impression that our embrace is shared and voluntary—neither stiff and open like we can never really touch each other, nor clamped on tight to the point where we do not have our own spaces.
Using a softer (not limp) embrace, the lead originates in the movements of the torso/chest. In some cases, the lead can be further transmitted by the movements of the arms and hands that go along with the torso/chest movement, but when dancing with an experienced woman, the arms and hands accompany the movement. They are not necessary to initiate her movements in any way. In fact, it is completely possible to lead and follow movements in an embrace that is open and in which neither partner is touching each other.
I once heard a woman describe her experience dancing with Pablo Veron. She said that she never felt the lead and that he had willed her movements rather than led them. To me, she described a perfect connection. The sound of her voice and the look in her eyes gave me the same impression.

---
Open Embrace, Soft Embrace
12 May 2004 — Stephen Brown
I used to think of both partners dancing with relatively firm arms and separate axes in an open embrace. I thought of the arms softening as the embrace became closer and the frame moved into the woman. It was really the nuevo dancers/instructors—particularly Fabian Salas—who opened my eyes about the idea of using softer arms in an open embrace. The nuevo dancers softened their arms to create more possibilities for movement. Imagine trying to do an overturn ocho in a somewhat open embrace while keeping the arms rigid and not leading with the arms. It may be possible, but it certainly doesn't feel that good. So, softer arms may be a more modern approach to dancing tango in an open embrace.
Once I discovered that a nearly rigid embrace wasn't really necessary, I was no longer interested in using it for any style of tango dancing. Interestingly enough, I found that a softer embrace makes shifting between dancing in an open and close embrace much easier. It also allows the woman greater flexibility in initiating her own, unled movements.

---
Intensifying the Experience of Tango
11 May 2004 — Stephen Brown
Argetine tango has at least two basic elements. One is the relationship between a man and a woman. The other is the expression of creativity in movement. All styles of Argentine tango are a mixture of these two elements—and probably other elements.
Fantasia tango places a greater emphasis on the visual expression of creativity in movement, but in remaining tango, fantasia at least acknowledges the relationship between a man and a woman. A recent modern dance performance that I saw reminded me how androgynous creative movement can be. In comparison, fantasia is about a relationship between a man and a woman—even if it is a stylized representation. Of course, for memorized routines, the creativity of movement is in the original choreography.
Milonguero-style tango places a strong emphasis on the relationship between a man and a woman, as does the culture of tango, but in remaining tango, milonguero-style tango still has a relatively large vocabulary for creative movement. An embrace without movement is enough to express the relationship between a man and a woman.
The nuevo approach to tango is to increase the understanding of the vocabulary for creative movement and self expression. As we might expect, some critics of the approach are concerned about the possibility that the nuevo approach dilutes the relationship aspects of tango.
What about dancing memorized figures in an open embrace? Although that is how many people start in Argentine tango, such an approach is more like a memory of tango. The use of memorized figures transfers the creativity to the person who originated the figures, and the distant embrace can dilute the relationship between the man and woman. Intensifying the experience of Argentine tango comes through developing improvisational skills and in closing the embrace.

---
Why Golden Age Music Still Dominates Milongas
5 May 2004 — Stephen Brown
Salsa and swing dancers use many contemporary recordings, but tango dancers mostly dance to recordings from the golden age of tango (mid-1930s through early 1950s). This phenomenon doesn't mean that tango dancers are living in the past. Rather, it owes to the separate evolution of tango music and its social dance form after the golden age ended.
For the first half of the 20th century, Argentine tango music and social dancing evolved together. The ways of moving the body and the feet in Argentine tango were expressions of the music. From the mid-1950s through the mid-1980s, however, Argentine tango music and social dancing evolved independently of each other.
In the early 1950s, the Argentine government repressed tango dancing by limiting public gatherings and cracking down on the milonguero lifestyle. As a result, tango dancing was pushed into small neighborhood clubs and private homes where it did not evolve much, and recordings from the golden age continued to be played. No longer playing for large dance parties, the tango orchestras shifted toward a concert sound. Astor Piazzolla, who was the leading exponent of the new tango sound, kept tango music alive and evolving, but he was not particularly concerned about playing for seemingly invisible social dancers.
By the time the show Tango Argentino renewed public interest in tango in the mid-1980s, the contemporary tango music of the time was no longer connected to the social dance form of tango. Stage dancers were quite happy to use Piazzolla's music and other progressive tango arrangments for their performances, but the newer music lacked the rhythmic qualities that were preferred by social dancers. As people flocked to dance tango socially, they rediscovered the older recordings that were still in use by those who had been dancing tango in clubs and at home. The recording companies accommodated the renewed interest in tango by reissuing many of the classics on CD. Consequently, music from the golden age still dominates milongas—some 50-70 years after it was recorded.
New recordings are emerging, however. A few modern orchestras, such as Color Tango and El Arranque, have begun playing music with a golden-age dance beat and somewhat more progressive arrangements. In a way, the evolution of music for social dancing is picking up where it left off. The body of such recordings is relatively small, however, and the sound pallette offered by these recordings is similar to what was recorded toward the end of the golden age.
In a somewhat different vein, tango-fusion music has appeared recently. Tango-fusion integerates traditional tango rhythms and instrumentation with other musical traditions, contemporary instruments and electronica to create a modern and culturally relevant world tango music with a dance-club sound. This music too offers a relatively narrow sound pallette, and one that can be quite monotonous if overused.
If the tango dancing remains sufficiently popular to support new recordings, the music may continue to evolve, and gradually some of the golden-age recordings will be supplanted by newer material. Music has timeless qualities, however, and many of the recordings from the golden age will prove just too good to take off playlists.

---
The Meeting of Two Personalities
3 May 2004 — Stephen Brown
"The meeting of two personalities is like the contact of two chemical substances; if there is any reaction, both are transformed." Carl Gustav Jung

---
Approaches to Teaching and Learning Tango
30 April 2004 — Stephen Brown
Although we may aspire to dance Argentine tango socially, I think it is inevitable that most of us are going to learn much of our Argentine tango by taking formal lessons. Somehow through the process of that instruction and sometimes by overcoming it, we have to find our way to navigating and developing our own styles for dancing tango socially.
I think there are three major approaches to teaching tango:
1) Memorized patterns;
2) The Structural Approach;
3) Small Elements.
Though styles of dancing and the approaches to teaching tango need not be linked, each of these approaches to dancing has become associated with a style of dancing. Memorized patterns are often taught by instructors who have a stage background, teach "salon-style" tango and rely on the eight-count basic. The structural approach is typically taught by instructors associated with nuevo tango. Teaching tango as small elements is primarily associated with milonguero-style instructors.
I think the evidence shows that a person can find their way to improvisation, good social dancing skills and their own style through any of these three approaches to teaching. The real questions are which methods of instruction work best for most individuals; how well can the students dance before they reach their own tango; and how many dancers will be encouraged to go on to find their own tango?
Memorized Patterns: Learning tango as memorized patterns produces dancers who cannot navigate until they break free of their patterns. Dancing memorized patterns also can inhibit the development of rhyhmic skills. It is also likely to be a route in which many people never find their own tango, though some obviously make it.
Structural Approach: The structural approach organizes the many elements of tango, but it often leaves people to find those elements on their own. As such, the structural approach may work best for dancers who already know a signficant amount of tango and who have an analytical mind for learning and an intuitive mind for dancing. The structural approach may overwhelm and discourage those with limited tango experience bcecause it gives them a huge amount of material to digest at once. Working to develop a mastery of the structure can also delay the development of rhythmic skills.
Small Elements: Learning to dance in small elements has the great advantage of maintaining natural navigational skills from the beginning. The small elements also allow the dancers to concentrate on developing their rhythmic skills. In both these ways, teaching in small elements probably does the most to encourage dancers to stay with tango. The downside is that because dancers can reach mediocre acceptability with relatively little work, they may remain shallow in their dance skills and may not care if they are having a good time.
My experience learning, teaching and observing how others dance and learn makes me hesitant to offer a one-fits-all formula for teaching, but I lean toward thinking that small elements ought to be emphasized in most beginning through intermediate classes; structure should be taught gradually as dancers develop a knowledge of tango in their bodies; and teaching memorized patterns is best reserved for dancers who are capable of disassembling those patterns and making them their own.

---
Taking Tango Styles to Extremes
24 April 2004 — Stephen Brown
Argentine tango is danced in a multitude of individualistic styles, but these styles can be generally classified in a few broad categories — such as milonguero, salon and nuevo. Some tango dancers grow quite attached to their own style of dancing and look askance at other approaches to Argentine tango. Peter Bengtson of Stockholm developed the following table to explain how extremists in each of three stylistic categories see their own style and those of others.

Tango Styles

| | | | |
| --- | --- | --- | --- |
| | What milonguero extremists say | What salon extremists say | What nuevo extremists say |
| ...about the milonguero style | The only true tango, danced from time immemorial in the milongas of Buenos Aires. All else is mere superficiality. There's nothing like the intensity, the contact, and presence of tango milonguero. Ah...! | For the hoi-polloi. What happens when space is at a premium. It certainly isn't elegant. They huddle up and tip-toe around with tiny steps, sacrificing the expression for the embrace. Doesn't anybody hug these people in their daily lives? | For dodderers! A compensation for a lack of body contact. They only like staccato music recorded before 1930. And why must everything be as in Buenos Aires? The tango must change and adapt to new times and places. |
| ...about the salon style | Elegant, perhaps, but aren't they really afraid of touching each other? You can do all the figures you need with full contact. All they want to do is glide around the hall with long strides to dramatic music like Pugliese, who is played rather sparingly in Buenos Aires anyway. | The tango has never been as elegant and stylish as in the 40s. Salon is the most all-around and expressive of all styles. There's nothing like the intensity, the contact and the presence of tango salon. Ah...! | The root of nuevo, but they have lost themselves in a bygone time of tuxedos and cigarette holders. We do all they do in tango salon and more — in a track suit if need be. And there is a lot of music from other periods than just the 40s. |
| ...about the nuevo style | Unmanageable exhibitionists who kick everything in sight! Of no use whatsoever for social tango. And they disrupt the communication on the pista. Also they only want to dance to impossible music which nobody in Buenos Aires would dance to, like Piazzolla. Hrrrmph! | They mostly seem to want to do awkward, "inventive" figures. Tango Lesson has done more damage than good. Do they secretly dream of becoming stage dancers? It's too much — we don't need all that. | Nuevo is the next step in a natural process of development. The tango will die unless it grows and changes — and there is more than just social tango. There's nothing like the intensity, the contact and the presence of tango nuevo. Ahh...! |
Peter adds:
"Maybe it's time we open our eyes and try to see things a little differently...? Perhaps it's time to draw up a second table listing what each style could learn from other styles. I have one, but I thought I'd leave it as an exercise for the reader..."
Peter Bengtson is a composer, musician, teacher, programmer and a dedicated dancer of Argentine tango. Peter's table and remarks originally appeared online at the now defunct Yumba tango community.

---
Rhuummmp and Ric Tic
23 April 2004 — Stephen Brown
Argentine tango music and the dance evolved together. That's why the ways of moving the body and the feet in Argentine tango are inseperable from the music itself. Move with the qualities expressed in Argentine tango music, and you can step, rock, wiggle or shake in any direction you want and you will still be expressing Argentine tango. Move in Argentine tango steps without the qualities expressed in Argentine tango music, and you will not be expressing Argentine tango. For these reasons, dancing other steps to Argentine tango music better expresses the qualities of Argentine tango than dancing Argentine tango steps to other music.
Such a conclusion may lead one to ask, "What are the qualities of movement that express Argentine tango?"
For tango music with a slow, powerful rhythm like that played by Di Sarli or Pugliese, the man's step forward involves surging with the body, without lunging or bouncing; accelerating through the half beat and then slowing to a stop on the beat, with the hips sinking slightly as the foot lands. This movement is best accomplished by keeping the knees soft, the hips soft and over the feet, the body over the hips, and heavily caressing the floor with the feet while moving with a rhuummmp, rhuummmp, rhuummmp, rhuummmp.
For tango music with the prominent double-time (or ric-tic) rhythms like that played by D'Arienzo, the appropriate movement is better be expressed as a combination of slow rhuummmp and quicker, ric-tic movements, in a pattern such as rhuummmp, rhuummmp, ric tic, rhuummmp. When expressing the ric-tic elements of the music, the hips and feet take a lighter quality. For the slower rhuummmp movements, however, the hips sink and the feet heavily caress the floor in the same manner used for dancing to the slower music.

---
Dancing Tango in Tight Spaces
13 April 2004 — Stephen Brown
Often the discussion about navigation and dance floor etiquette makes it all sound like a bunch of restrictive rules and nothing more. In fact, dance-floor etiquette is nothing more than common-sense guidelines so that everyone can share a crowded dance floor. The main reason we want to share the floor is that doing so is part of the fun of dancing. Some of my most favorite times dancing have been on very crowded floors—when dancing became an interaction with the couples around me and my partner.
In tight spaces, followers contribute to safety and courtesy by making sure they are keeping their feet under themselves, their boleos on the floor, and not taking too much space and time for embellishments. Leaders are responsible for sharing the space with other couples on the dance floor and contribute to safety and courtesy through their interraction with the other couples. When I see the couple ahead of me doing something that needs a little space, I give it to them. Later, I may get the same courtesy.
The growth of tango means more crowded dance venues and raises the demands for navigational skills. Many of the big tango festivals around the country already have crowded floors, and many people aren't dancing very well in crowds, which generates minor injuries and continued discussion about the problem. If we work at developing our navigational skills, there is a big reward when we all get together. We will all be able to share the dance floor and maybe 30-300 of us can experience tango heaven together.
We will always have those times of the night when there is more room and we can open up our movements. It would be nice though if it was possible for people to dance well on a crowded floor when we all find ourselves together in the same room. (Based on Teaching the Tango of Tight Spaces (1) and Teaching the Tango of Tight Spaces (2), two contributions to Tango-L by Robert Hauk)

---
Partitioning the Dance Floor to Accomodate Different Styles
12 April 2004 — Stephen Brown
Doesn't a form of partitioning occur in most communities? Don't people mostly attend the milongas that better fit their own tastes? It's the big tango events that have the potential to draw dancers with diverse interests—particulary if the event has a diverse mix of instructors. Maybe for a big enough tango event with diverse instructors, simultaneous milongas might better serve differing tastes.
One of the attractions of a well attended milonga is that everyone enjoys the shared experience. Breaking a moderately attended milonga into three smaller events isn't likely to be as much fun.
Instead of three separate milongas, what about three djs broadcasting on three channels to people wearing headsets? One channel might feature highly rhythmic music from the golden era. Another channel might feature a blend of smoother to dramatic music from the golden and later eras. The third channel might feature a blend of theatrical and modern neo-tango music.
Asking someone to dance might be a bit more complicated because the couple would have to agree to which channel they should listen while dancing. Suppose, however, that my partner and I agreed to listen to different music while dancing together—me to the rhythmic channel playing D'Arienzo's "El Flete" and my partner to another channel playing Pugliese's "La Bordona." You can imagine the difficulty in us dancing together. We would quickly recognize that the music provides a coordinating glue to our dancing.
To some extent the same problem would arise if each partner in a couple was listening to the same music, but the couples on the floor had selected different music. The music provides the coordination across couples that is necessary for navigation.
Participating in an activity that requires coordination across individuals, such as dancing at a milonga, requires at least some degree of agreement (and compromise) between those individuals. We all make some compromise in our personal tastes to participate in a shared activity such as dancing at a milonga.

---
The Sweet Zone of Tango Rhapsody
11 April 2004 — Stephen Brown
Sometimes "Tango Rapture" seems to be used as a cover for ungracious floor craft. With their movements, some dancers seem to be saying "Look out for (or AT) ME, I'm in tango heaven!" Mmm... Riiiiight... The generosity these dancers exploit is not infinite. Putting first things first, dancing at a milonga is a group experience. The sweet zone of tango rhapsody is for those leaders who don't cause trouble by disrupting the flow of other dancers and who can work with the same amount space as everybody else to maintain the flow. (Based on Rhapsodic Tango a contribution to Tango-L by Frank Williams)

---
Nostalgia for the Bohemian Ideal
6 April 2004 — Stephen Brown
Sometimes I look back with nostalgia to when Susan and I were first learning to dance Argentine tango in the SF Bay Area in the mid-1990s. At that time in the SF Bay Area, Argentine tango somehow represented the Bohemian ideal of freedom, beauty, truth and love. It was a warm and friendly atmosphere. None of us knew much about different styles of dancing; we were struggling to learn; and yet somehow we found something in the music and dance of Argentine tango that reached deeply into our hearts and souls.
Since then, ..., the world has erupted in variations, authenticity debates, and distinctions between social and show dancing... It is a little hard to face the loss of naivete, but also the distinctions in styles that gradually grew into dogmatic and polarizing viewpoints. We all gradually forgot or never knew that Anibal Troilo said that there is no such thing as old and new tango, only tango well danced and poorly danced.
Like many others, I participated in the polarization—maybe not in San Francisco, where Susan and I were simply visitors—but in my own community and on various electronic forums. I don't think that many of us deliberately acted to create polarization. I was sure that I knew the truth because I experienced it in the tango music I heard and in the tango I danced. Well, maybe I knew the truth because I needed to believe that I knew the truth.
The trouble is that many of us who expressed the truth we found in Argentine tango denied what we saw as half-truths, distortions and lies that others found in it and created dogmatic approaches to tango.
As Argentine tango has grown throughout the world and we dancers have gradually matured into their own styles, the excitement of participating in something new has worn off. In many communities, the polarization and clashes about styles have emerged and continued... Those who dance nuevo won't dance with those who dance milonguero, who won't dance those who dance salon, who won't dance with those who dance fantasia. Maybe the styles aren't completely compatible, but the feelings of separation and animosity are much deeper.
What I am beginning to realize is that tango reveals our own truth to each of us, but it keeps secret from us the truths that it reveals to others. Making an effort to reach across the lines of polarization and separation is important if we are to experience more than our own ideas of truth, freedom and beauty and find the love and connection that is Argentine tango.

---
Tango Chooses You
5 April 2004 — Stephen Brown
"The tango is discovered little by little, and it chooses you. When it does, it gives you a glimpse but it remains, as it has forever, surrounded by a halo of impregnable mystery." Anibal Troilo

---